If yasd;laskd;lasd;lasou have an newish Android phone, you may have already tried Swype: a text input application that promises to make typing via your touchscreen device significantly faster.
With over 50 million installs, Swype is the most popular alternative keyboard for Andriod devices. And with good reason. Swype is a gestural text-input technique specifically for touchscreen devices that represents a paradigm shift in word creation. Instead of trying to replicate the tap-tap-tap of a real world keyboard, you just trace your finger over the keys – just like joining the dots –  linking letters to form words in one fluid motion.
While there is a learning curve, Swype is a lot more intuitive then you might expect. It adds a space automatically after each word and includes robust auto-correct and text prediction features — de riguer in QWERTY-based keyboard these days. It also includes some neat gestures like moving the traced line above the keyboard to automatically capitalise a letter. And you have the choice of tapping or swyping.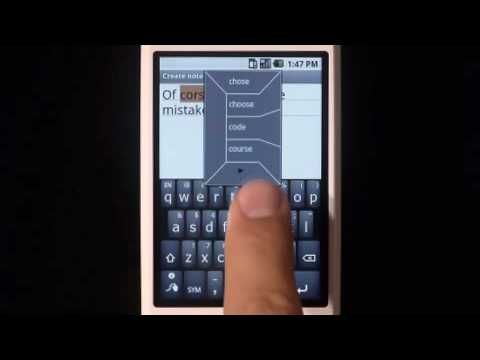 It is also possible to personalise your Swype experience, from choosing how often the suggestion box appears to setting the balance between speed and accuracy. It may take a while before you find a setting you're comfortable with but it's uplifting that such a wide range of options are offered.
But it ain't perfect. It does require an intimate and intuitive knowledge of the QWERTY key order. And because you're supposed to maintain contact with the screen while swyping, your finger obscures a sizable chunk of the keyboard – so you can't always see where your finger should be heading next. And because you swype across a range of letters enroute to your desired letter, the text prediction isn't always on the money – especially within the "U I O" letter cluster. The larger tablet version is pretty tiresome as your finger has to travel greater distances to complete each word.
It also raises a critical question – in creating Swype, the developers are relegating us from 10-finger texting to just one. Is single digit dexterity really a step forward?
Is Swype as good as it gets?
Could it be improved with a key layout optimised to reduce the tedious horizontal scrubbing back and forth?
Could we increase both speed and accuracy with a more intuitive keyboard layout?